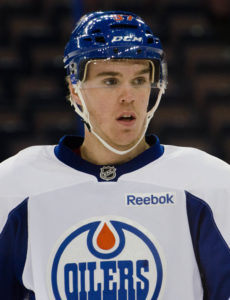 Connor McDavid of the Edmonton Oilers has displayed outstanding stickhandling ability during the 2018 International Ice Hockey Federation World Men's Hockey Championships in Denmark over the last week. On Thursday, it was McDavid's shot that deserved high praise.
McDavid notched a hat trick as Canada trounced Norway 5-0 to improve to a record of three wins and one shootout loss for seven points in the tournament to date. McDavid scored his first goal at 1:23 of the first period (the game winning goal) from defensemen Colton Parayko and Ryan Murray. Parayko, a native of St. Albert, Alberta, plays for the St. Louis Blues and Murray, a native of White City, Saskatchewan, plays for the Columbus Blue Jackets.
McDavid's second goal came at 15:41 of the first period from St. Louis Blues left winger Jaden Schwartz of Melfort, Saskatchewan to put Team Canada up 3-0. McDavid then scored his third of the game at 8:03 of the second period from Parayko, and his Oilers teammate Ryan Nugent Hopkins of Burnaby, British Columbia to put Team Canada up 4-0.
Meanwhile, Vancouver Canucks centre Bo Horvat of London, Ontario scored the other two Team Canada goals and Arizona Coyotes goaltender Darcy Kuemper of Saskatoon, Saskatchewan and Toronto Maple Leafs goaltender Curtis McElhinney of London, Ontario combined for a 10 save shutout. Team Canada is now in second place in Group B with 10 points. Canada has passed Finland, who was upset by Denmark 3-2 on Wednesday. Finland will be Canada's next opponent on Saturday.