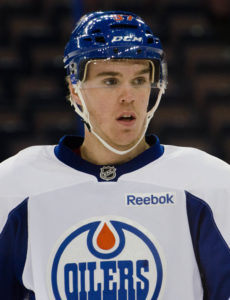 Connor McDavid of Richmond Hill, Ontario made National Hockey League history on Tuesday. McDavid collected a point on the first four Oilers goals in a 5-4 win over the Winnipeg Jets. In collecting a point on the first four Oilers goals, McDavid set an NHL record by recording a point on every goal on his team to start the season. McDavid set the record with nine, breaking the record previously set by Detroit Red Wings center Adam Oates of Weston, Ontario, who collected a point on the first seven Detroit Red Wings goals during the 1986-87 season.
However even though the Oilers beat the Winnipeg Jets 5-4 in overtime in a historic comeback (Oilers trailed the Jets 4-1 after two periods), the streak is over. McDavid was on the bench when defenseman Darnell Nurse scored the overtime winner. McDavid ended the game with two goals and two assists for four points and now has four goals and five assists for nine points in four games.
The dominance of McDavid is clear. He is at the moment the heart of soul of the Oilers and it is hard to argue that there is any one player more valuable to his team than him. The next four Oilers games are at home. However Edmonton plays four very tough opponents–the Boston Bruins, Nashville Predators, Pittsburgh Penguins and Washington Capitals.