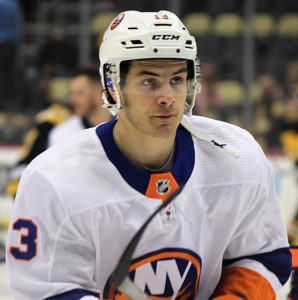 Mathew Barzal of Coquitlam, British Columbia notched his third career National Hockey League hat trick on Thursday. The New York Islanders center had three goals and two assists for five points as the Islanders hammered the Washington Capitals 8-4. Barzal had a magical game. In addition to the five-point night, he had eight shots on goal and was a +5.
Barzal scored his first of the game at 16:09 of the first period with an unassisted marker to put the Islanders up 2-1. He then scored at 18:53 of the first period from Jordan Eberle of Regina, Saskatchewan, and Scott Mayfield to put the Islanders up 4-2. Then Barzal notched the final goal of the game with 1:06 left in the third period from Josh Bailey of Bowmanville, Ontario, and Mayfield to put the Islanders up 8-4.
Barzal was one of five Islanders with a multi-point game. Barzal was joined by Bailey (one goal and two assists for three points), Eberle (two goals and one assist for three points), Brock Nelson (one goal and one assist for two points), and Mayfield (two assists). The other Islanders' goal scorer was Casey Cizikas of Toronto, Ontario.
On the season, Barzal has 13 goals and 20 assists for 33 points in 37 games. He is a +16 with 36 penalty minutes, six power-play points, one game-winning goal, 95 shots on goal, 122 faceoff wins, seven blocked shots, 13 hits, 20 takeaways, and 24 giveaways. Barzal's two prior NHL hat tricks came in a 5-2 Islanders win over the Winnipeg Jets on December 23, 2017, and in a 4-0 Islanders win over the Toronto Maple Leafs on December 29, 2018.
With the win, the Islanders improved to a record of 23 wins, 10 regulation losses, and four losses in extra time for 50 points. They are in a first-place tie in the East Division with the Washington Capitals and Pittsburgh Penguins.