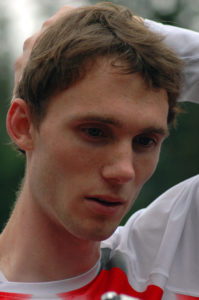 Michael Mason of New Westminster, British Columbia won the silver medal in the men's high jump in a Diamond League event in Birmingham, England on Saturday. It was the first time in Mason's career that he reached the podium in the Diamond League.
Mason best high jump of the day was 2.3 metres. Jeron Robinson of the United States also had a jump of 2.3 metres, but finished behind Mason because he had seven failed attempts, while Mason only had six. Brandon Starc of Australia won the gold medal with 2.33 metres. Mason reached the podium by 0.06 metres over Naoto Tobe of Japan, who finished in fourth place with a jump of 2.24 metres.
Mason is now one of seven Canadian track and field athletes who have qualified for the 2018 Diamond League Finals. Mason will be competing alongside women's long jumper Christabel Nettey of Brampton, Ontario, 2015 world men's pole vault champion Shawnacy Barber of Toronto, Ontario and Mohammed Ahmed of St. Catharines, Ontario in the men's 5000 metres on August 31 in Brussels, Belgium. Meanwhile, three other Canadians will compete in the 2018 Diamond League Finals on August 30 in Zurich, Switzerland. They are Sage Watson of Medicine Hat, Alberta (women's 400 metre hurdles), Aaron Brown of Toronto, Ontario (men's 200 metres) and Matt Hughes of Oshawa, Ontario (men's 3000 metre steeplechase).