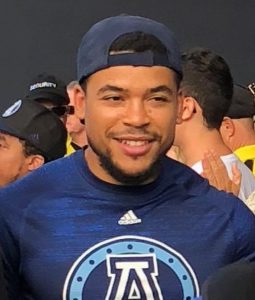 Anthony Coombs of Winnipeg, Manitoba played his first game of the 2018 Canadian Football League season for the Toronto Argonauts on Saturday and it was a memorable one. Coombs, only had one rush for five yards, but caught three passes for 56 yards, including his fifth career touchdown, as the Argonauts defeated the British Columbia Lions 24-23 at BMO Field in Toronto.
Coombs, who attended the University of Manitoba, caught a 20 yard touchdown pass from Argonauts quarterback McLeod Bethel-Thompson at 10:10 of the third quarter. The touchdown put the Argonauts within a field goal at the time. Toronto then moved ahead for good in the fourth quarter with a one yard touchdown run by backup quarterback James Franklin. Coombs had been out with a broken ankle to start the season.
With the win, the Argonauts are in a second place tie with the Hamilton Tiger-Cats in the CFL East Division. Both teams are at three wins and five losses. The Tiger-Cats were the only team with a bye week in Week 10 and will next face an Edmonton Eskimos team that struggles against the Canadian Football League's weaker teams. Their three losses this season have come to the British Columbia Lions, Tiger-Cats and Argonauts. All are below .500 and have a combined record of 9-15.
In other week 10 action, the Calgary Stampeders lost their first game of the season as they were upset 40-27 to the Saskatchewan Roughriders. Ottawa beat Winnipeg 44-21 and Edmonton beat Montreal 40-24.