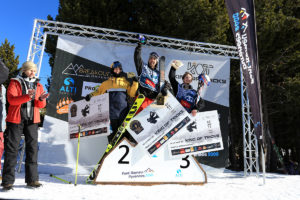 Mark Hendrickson of Calgary, Alberta earned his first World Cup medal on Saturday and it turned out to be a gold medal. While competing in Font Romeu, France, Hendrickson won the gold medal with a score of 86.3 points.
Hendrickson reached the podium by 0.6 points over Jesper Tjader of Sweden. Tader had a second place score of 85.7 points. Cody Laplante of the United States won the bronze medal with a score of 83.45 points.
Hendrickson reached the podium by 4.1 points. Andy Ragettli of Switzerland finished in fourth place with 83.45 points.
Of the two runs in the 12 man final, Hendrickson's best performance came in the first run. In fact all of the top six slopestyle skiers had their best performance in the first run.
This was the first of five slopestyle skiing World Cup competitions in the season. So, by winning the first race of the year, Hendrickson all of a sudden is the World Cup leader. The other World Cup men's slopestyle skiing events in 2019-20 are in Seiser Alm, Italy on January 18, in Mammoth, California, United States on February 1, in Calgary, Alberta, Canada on February 15 and Silvaplana, Switzerland on March 21. The World Cup in Calgary will be at Canada Olympic Park. The gold medal for Hendrickson in France will give him confidence as he prepares for the 2022 Olympic Games in Beijing.