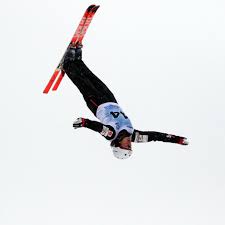 Marion Thenault of Sherbrooke, Quebec has won her first career World Cup women's aerials medal. On Saturday, Thenault placed third at a World Cup event in Moscow, Russia.
Thenault posted a score in the superfinal of 90.59 points. Winter Vinecki of the United States won the gold medal with a score of 94.11 points. Laura Peel of Australia won the silver medal with a score of 92.72 points. Thenault reached the podium by 2.47 points, as Liubov Nikitina of Russia placed fourth with a score of 88.12 points.
Thenault is now in eighth place in the World Cup standings in women's aerials with 154 points. Peel leads with 290 points.
This was the fourth of seven World Cup women's aerials competitions this season. Peel won the first two World Cups in Ruka, Finland on December 4, and Yaroslavl, Russia on January 16, while American Megan Nick won a World Cup in Yaroslavl on January 17. The final three Women's World Cup aerials competitions this season will be from Minsk, Belarus on January 30, Deer Valley, Utah on February 6, and Almaty, Kazakhstan on March 13.
There were plans for Calgary to host the 2020 World Freestyle Skiing Championships starting February 24. However, those plans have now been cancelled as of Thursday. There have been 119,757 cases of coronavirus in Alberta since the pandemic hit Alberta last March, and 1,512 deaths. Thenault's bronze medal on Saturday will give her confidence as she prepares for the 2022 Olympic Winter Games in Beijing.