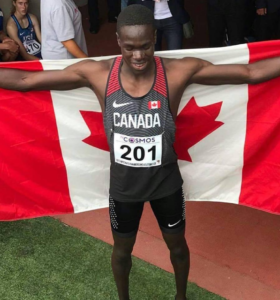 Marco Arop of Edmonton, Alberta won his second medal in two weeks at a Diamond League event in Stockholm, Sweden on Sunday. Arop won a silver medal in the men's 800 metres, nine days after winning a bronze medal in Fontvieille, Monaco on August 14.
Arop had a second place time of 1:44.67. He reached the podium by 0.44 seconds over fourth place finisher Ferguson Cheruyiot of Kenya, who had a time of 1:45.11. Donavan Brazier of the United States won the gold medal with a time of 1:43.76. Andreas Kramer of Sweden won the bronze medal with a time of 1:45.04.
Even though Arop finished in second place on Sunday, he was 0.53 seconds slower in Stockholm from when he won the bronze medal in Monaco. Brazier also won the gold medal in Monaco with a time of 1:43.15. It is interesting that Brazier was 0.61 seconds slower in Monaco than Sweden.
One area where Arop needs some improvement is his finish. The beginning and middle parts of his race in Stockholm were excellent, but near the end he seemed to be labouring a bit, and was clearly beaten by Brazier in the last 100 metres.
Arop, who is a native of Khartoum, Sudan, is a rising Canadian star in men's middle distance running at 21 years of age. At the 2020 Olympic Games in Tokyo in 2021, he has the capability of being a medal contender for Canada.