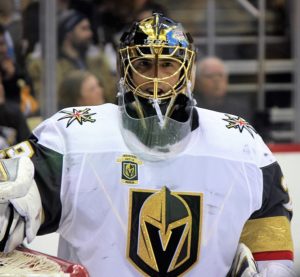 Canadian Olympic gold medalist Marc-Andre Fleury of Sorel-Tracy, Quebec delivered two shutouts for the Vegas Golden Knights this past weekend. On November 23, Fleury made 29 saves in a 2-0 Golden Knights win over the Calgary Flames and on November 24, Fleury made 33 saves in a 6-0 Golden Knights win over the San Jose Sharks.
Fleury currently leads the National Hockey League with five shutouts. He has had an outstanding season as he also has 12 wins, a goals against average of 2.33 and a save percentage of .913. This season Fleury not only leads the NHL with five shutouts, but 1235 minutes played as well.
The fact that the Golden Knights were able to beat the top two teams in the Pacific Division was also impressive. Calgary is in first place with 29 points and San Jose is in second place with 28 points. Vegas meanwhile has moved into a third place tie in the Pacific Division with the Anaheim Ducks.
There is no doubt that Fleury has felt very comfortable in his two seasons with the Golden Knights. In 67 games, Fleury has a record of 41 wins, 21 regulation losses, five losses in extra time, a goals against average of 2.27, a save percentage of .923 and nine shutouts. Fleury won his Olympic gold medal for Canada at the 2010 Olympic Winter Games in Vancouver. 
Fleury was one of three Canadian goaltenders to record a shutout on Black Friday. The other two were Calvin Pickard of Moncton, New Brunswick, who made 31 saves for the Philadelphia Flyers in a 4-0 win over the New York Rangers and Aaron Dell of Airdrie, Alberta, who made 19 saves for the San Jose Sharks in a 4-0 win over the Vancouver Canucks.