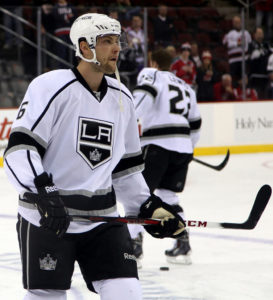 The Toronto Maple Leafs  made a significant trade on Monday with the Los Angeles Kings. To improve their defense, the Maple Leafs acquired Jake Muzzin of Woodstock, Ontario for prospects Carl Grundstrom and Sean Durzi, and the Maple Leafs' first round draft pick in the 2019 National Hockey League Entry Draft.
This was the first significant trade in the  NHL general manager career of Kyle Dubas, who joined the Maple Leafs on May 11. Muzzin had four goals and 17 assists for 21 points with the Kings in 2018-19. In 50 games, he was a +10 with 33 penalty minutes, two power play points, 78 shots on goal, 92 blocked shots, 111 hits, nine takeaways and 59 giveaways.
At 29 years of age, Muzzin is still in the prime of his NHL career. He joins a Maple Leafs squad that is among the best in the entire National Hockey League. At 30 wins, 17 regulation losses and two losses in extra time, the Maple Leafs have the third best record in the Eastern Conference, only behind the Tampa Bay Lightning and surprising New York Islanders.
Muzzin will be among the top three Maple Leafs defensemen down the homestretch into the playoffs. The others include Morgan Rielly of Vancouver, British Columbia and Jake Gardiner. Even though the Maple Leafs team assembled this season are contenders to win the Stanley Cup, one must realize that the Tampa Bay Lightning still need to be considered the favourites.