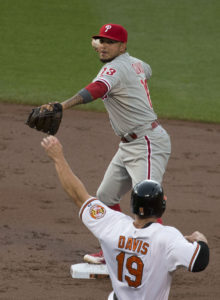 The Toronto Blue Jays  signed shortstop Freddy Galvis from the San Diego Padres to a contract on Tuesday. The terms of the contract were one year at $5 million with a club option for 2020.
In 2018 with the Padres, Galvis batted .248 in 602 at bats. He scored 62 runs, had 149 hits, 31 doubles, five triples, 13 home runs, 67 runs batted in, eight stolen bases, 45 walks, an on base percentage of .299 and slugging percentage of .380. He had career highs in doubles and tied a career high in runs batted in and walks.
The Blue Jays become Galvis's third Major League Baseball team. Prior to playing for the Padres in 2018, he played six seasons with the Philadelphia Phillies from 2012 to 2017.
One thing the Blue Jays should like about Galvis is his durability. He has played a full 162 games in each of the last two seasons. In joining the American League for the first time however, it may be a small adjustment for him as he gets to learn new pitchers.
In 2019, it appears Galvis will share duties at shortstop with Lourdes Gurriel Jr. In 2018, the young Cuban had an impressive .281 batting average with the Blue Jays. He had 11 home runs and 35 runs batted in.
The most significant discussions around the Blue Jays in the offseason is whether or not Vladimir Guerrero Jr. will be the starting third baseman on opening day. Current rumours are that his debut will be delayed three weeks so he can be under contract for one more season wit the Blue Jays before he can test the free agent market.