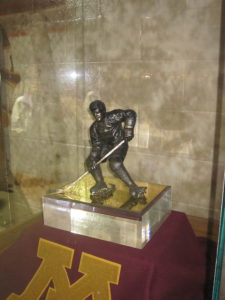 Cale Makar of Calgary, Alberta has won the 2019 Hobey Baker Award. In an announcement made on Friday, Makar becomes the tenth Canadian to win the award for the best collegiate hockey player in the National Collegiate Athletic Association. Ironically the last Canadian was also from Calgary when Ryan Duncan of North Dakota University won the award in 2007.
Makar, a defenseman for the University of Massachusetts-Amherst, had an outstanding season in the NCAA in 2018-19 as he had 16 goals and 33 assists for 49 points. He was third in NCAA scoring behind Penn State University center Alex Limoges and Michigan State University left winger Taro Hirose of Calgary, Alberta, who each had 50 points.
The other Canadians to win the Hobey Baker Award are George McPhee of Guelph, Ontario (1982), Bill Watson of Pine Falls, Manitoba (1985), Tony Hrkac of Thunder Bay, Ontario (1987), Scott Pellerin of Shediac, New Brunswick (1992), Paul Kariya of Vancouver, British Columbia (1993), Brendan Morrison of Pitt Meadows, British Columbia (1997), Jason Krog of Fernie, British Columbia (1999) and Junior Lessard of Saint-Joseph-de-Beauce, Quebec (2004). Makar is also the eighth defenseman ever to win the award. However it should be noted that Makar is the first Canadian defenseman ever to win the Hobey Baker Award.
Makar's next focus will be with the Colorado Avalanche of the National Hockey League. Since winning the Hobey Baker Award, Makar has signed a three year contract with Colorado. The Avalanche are now focused on beating the Calgary Flames in the first round of the Western Conference playoff series. The Flames and Avalanche are currently tied at one game apiece in their best out of seven series.