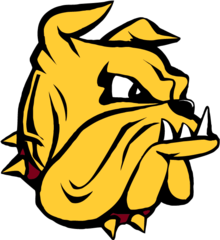 Five Canadians have won the 2019 National Collegiate Athletic Association Men's Hockey Championship. When the University of Minnesota-Duluth Bulldogs beat the the University of Massachusetts-Amherst Minutemen 3-0 at the KeyBank Center in Buffalo, New York on Saturday, junior defenseman Jarod Hilderman of Kamsack, Saskatchewan, freshman forward Tanner Laderoute of Edmonton, Alberta, senior forward and assistant captain Billy Exell of Thunder Bay, Ontario, freshman goaltender Ben Patt of Brampton, Ontario and senior forward Parker Mackay of Irma, Alberta won the top team prize for post-secondary hockey in the United States.
In the Frozen Four Final, Mackay had one goal and one assist for two points, while Laderoute notched an assist. Mackay scored the game winning goal for the Bulldogs at 3:51 of the first period from Mikey Anderson and Riley Tufte, and then had an assist on a goal from Anderson at 15:48 of the second period which put the Bulldogs up 2-0. Laderoute then picked up his assist on a goal by Jackson Cates at 17:18 of the third period.
During the season, Mackay led the Bulldogs in scoring with 16 goals and 33 points. Laderoute had seven goals and five assists for 12 points. Exell had three goals and three assists for six points and Hilderman had one assist.
This was the second straight year that the Bulldogs won the NCAA Men's Hockey Championship. They also won in 2011.
In a sidenote, praise needs to go out to the NCAA for allowing anthem singer Doug Allen to sing O Canada as well as the Star Spangled Banner prior to the game. Allen sings both national anthems prior to all Buffalo Sabres home games. regardless if a Canadian team is playing or not.