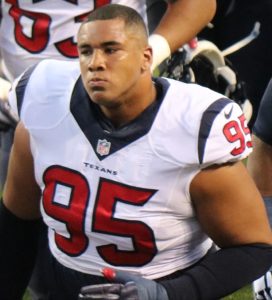 As the 32 teams in National Football League are developing their rosters for the 2021 season, the Los Angeles Chargers are becoming Canada's team. Why? Well, they now have five Canadians, the most of any team in the NFL at the moment.
This past week, the Chargers signed defensive tackle Christian Covington of Vancouver, British Columbia. The Chargers become Covington's fourth NFL team as he previously played with the Houston Texans, Dallas Cowboys, and Cincinnati Bengals. In 16 games this season for Cincinnati, Covington had 39 combined tackles (25 assisted tackles and 14 solo tackles), and one quarterback hit.
One of the Canadians on the Chargers roster at the moment was selected in the 2021 NFL Draft. In the third round, 77th overall, the Chargers selected wide receiver Josh Palmer of Brampton, Ontario from the University of Tennessee.
Defensive back Tevaughn Campbell of Toronto, Ontario played 14 games for the Chargers in 2020 as a rookie. He had 22 combined tackles (16 solo tackles and six assisted tackles), three pass deflections, one quarterback hit, one forced fumble, and one interception for six yards and one touchdown. The pick-six came in a 34-28 Chargers win over the New York Jets on November 22.
Guard Ryan Hunter of North Bay, Ontario signed with the Chargers on January 5, 2021, after being on the Chargers practice squad in 2020. Prior to his time with the Chargers, Hunter spent two seasons with the Kansas City Chiefs, and was on the Chiefs' active roster when they won the Super Bowl in February of 2020.
Finally, linebacker Amen Ogbongbemiga of Calgary, Alberta, signed with the Chargers on May 1 after going undrafted in the NFL Draft. Ogbongbemiga was however taken by the Calgary Stampeders in the 2021 Canadian Football League Draft, after having an outstanding college football career at Oklahoma State.