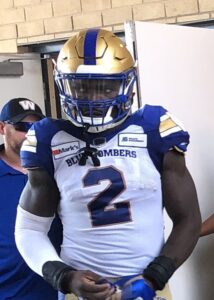 According to the Canadian Football League, the British Columbia Lions traded linebacker Jonathan Kongbo to the Hamilton Tiger-Cats for a fourth round pick in the 2024 Canadian Football League Draft on Monday. Ironically, the Tiger-Cats originally acquired the same draft pick from the Lions when they traded quarterback Dane Evans to British Columbia on February 23.
Kongbo was born in Zaire, but moved to Canada when he was five years old. He was raised in Surrey, British Columbia.
On May 21, 2023, Kongbo signed with the British Columbia Lions after playing three games in the National Football League with the Denver Broncos in 2022. Prior to playing for Denver, Kongbo played two seasons with the Winnipeg Blue Bombers in 2019 and 2021. He had 28 defensive tackles, four sacks and one special teams tackle. Kongbo also was on the two Blue Bombers teams that won the Grey Cup in 2019 and 2021. In 2019 in Calgary, the Blue Bombers beat the Hamilton Tiger-Cats 33-12. In 2021 in Hamilton, the Blue Bombers beat the Tiger-Cats 33-25.
While with the Broncos this past year, Kongbo had one assisted tackle. It came in a 21-17 Broncos win over the Jacksonville Jaguars on October 30.
Even though there were two separate transactions here, many could be of the opinion, that Kongbo was in essence traded for Evans. who has been the Tiger-Cats quarterback in 2018, 2019, 2021 and 2022. This past year Evans completed 305 passes in 457 attempts for 3883 passing yards, 16 touchdowns and 16 interceptions. He also had 59 rushes for 202 yards and four touchdowns. Evans became expendable when Hamilton acquired quarterback Bo Levi Mitchell from the Calgary Stampeders.