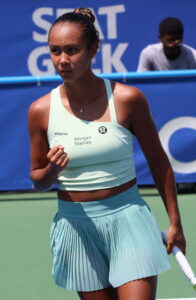 Leylah Annie Fernandez of Montreal, Quebec has reached the semifinals of the 2023 Hong Kong Open. On Friday, Fernandez defeated Linda Fruhvirtova of the Czech Republic, 7-6, 6-2 in the quarterfinals. She will next play the fifth seed Anna Blinkova of Russia on Saturday in final four action.
On Friday in the quarterfinals, Fernandez broke Fruhvirtova thrice in seven opportunities, and had the more productive serve. Fernandez had five aces compared to three for Fruhvirtova.
Fernandez opened the tournament on Tuesday with a walkover victory over the number one seed, Victoria Azarenka of Belarus. At the time of the injury, Azarenka won the first set 6-2 and Fernandez won the second set 6-3.
Then in the second round, Fernandez beat Mirra Andreeva of Russia 3-6, 6-1, 6-3. This was considered an upset as Andreeva is 50th in the world, and 10 spots higher than Fernandez, who is 60th. At 16 years of age, Andreeva is a rising star in women's tennis. So far this season, she has reached the fourth round of the Madrid Open and Wimbledon. In Fernandez's win over Andreeva, Fernandez broke Andreeva six times in 11 opportunities.
Blinkova is ranked 37th in the world. The Russian beat Fernandez 7-5, 6-2 in the second round of the Bad Homburg Open in Germany leading up to Wimbledon.