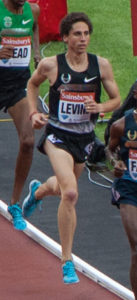 Cameron Levins of Campbell River, British Columbia is in the Canadian record books in the men's marathon. On Sunday at the 2018 Scotiabank Toronto Waterfront Marathon, Levins set the Canadian record for the fastest time ever in a men's marathon race as he posted a time of two hours, nine minutes and 25 seconds.
Levins broke the record previously set by Jerome Drayton of Toronto, Ontario, who posted a time of two hours, 10 minutes and nine seconds when he won the 1975 Fukuoka Marathon in Japan. Drayton was considered one of the best marathon runners in the world throughout the 1970's. He won three Fukuoka Marathons (others in 1969 and 1976), the 1977 Boston Marathon and won the silver medal for Canada at the 1978 Commonwealth Games in Edmonton. The fact that Drayton's men's marathon record lasted 43 years is remarkable.
Even though Levins set a Canadian record in the men's marathon, he finished fourth, one spot off the podium. Benson Kipruto of Kenya won the gold medal with a time of two hours, seven minutes and 24 seconds. Augustino Sulle of Tanzania won the silver medal with a time of two hours, seven minutes and 46 seconds. Felix Kandie of Kenya won the bronze medal with a time of two hours, eight minutes and 30 seconds.
Levins was an international specialist in the men's 5000m and men's 10000m. He represented Canada in both long distance events at the 2012 Olympic Games in London. Levins also won a bronze medal for Canada in the men's 10000m at the 2014 Commonwealth Games in Glasgow. Now as Levins has made the switch to marathon racing, it will be interesting to see if he can improve his Canadian record time and be a medal threat for Canada at the 2020 Olympic Games in Tokyo.