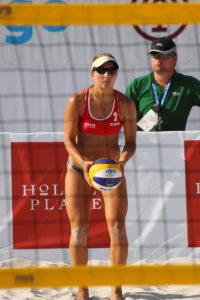 Heather Bansley of London, Ontario and Brandie Wilkerson of Toronto, Ontario won the gold medal on Sunday in a women's beach volleyball World Tour event from Las Vegas, Nevada. The victory for Bansley and Wilkerson was significant because they won an all-Canadian final. They beat Sarah Pavan of Kitchener, Ontario and Melissa Humana-Paredes of Toronto, Ontario 21-17, 17-21, 15-9 in three sets.
Bansley and Wilkerson won both of their Pool B matches. They defeated Canadians Kristina May of Toronto, Ontario and Taylor Pischke of Winnipeg, Manitoba 21-12, 21-14 and Marleen Ramond-Van Iersel and Joy Stubbe of the Netherlands 21-13, 21-10.
Pavan and Humana-Paredes won both of their Pool C matches. They defeated Chiyo Suzuki and Reika Murakami of Japan 21-14, 21-14 and Betsi Flint and Emily Day of the United States 21-10, 23-21.
In the quarterfinals, Bansley and Wilkerson beat Liliana Fernandez Steiner and Elsa Baquerizo McMillan of Spain 21-14, 21-15 and Pavan and Humana-Paredes beat Kinga Kolosinska and Katarzyna Kociolek of Poland 21-17, 21-15. In the semifinals, the Canadian teams beat two Brazilian teams. Bansley and Wilkerson beat Carolina Solberg Salgado and Maria Antonelli 21-18, 22-24, 15-11, and Pavan and Humana-Paredes beat Ana Patricia Silva Ramos and Rebecca Cavalcanti Barbosa Silva 21-14, 21-19.
Bansley and Wilkerson as well as Pavan and Humana-Paredes are each strong medal contenders for Canada at the 2020 Olympic Games in Tokyo. There is no doubt that the Canadians will face tough tests from formidable opponents from Brazil, Germany and the United States. For now, having two Canadian teams in the conversation for Olympic glory is very significant.