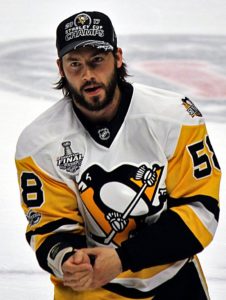 Kris Letang of Montreal, Quebec set the Penguins franchise record for most goals in a career by a defenseman on Monday. Letang scored his 109th goal to pass Paul Coffey of Weston, Ontario into first place on the Penguins all-time list in a 4-1 Pittsburgh win over the Philadelphia Flyers. However, it should be noted that it took Letang 736 National Hockey League regular season games to score 109 goals. It took Coffey only 331 NHL regular season games to score 108 goals.
Letang scored his record breaking goal on a shot from one end of the sheet to the other and into an empty net with 13 seconds left in the third period from Canadian Olympic gold medalist Sidney Crosby of Cole Harbour, Nova Scotia. The goal, which put the Penguins up 4-1 at the time, was initially taken from behind the goal line in one of the longest goals scored in NHL history.
The Penguins had a great performance from Crosby, who had one goal and two assists for three points. He scored his lone goal at 8:19 of the first period from Bryan Rust and also had an assist on a goal by Jake Guentzel in the third period. Letang had an assist on the Guentzel goal as well.
Crosby leads the Penguins with 65 points. He won a gold medal for Canada at the 2010 Olympic Winter Games in Vancouver and the 2014 Olympic Winter Games in Sochi.
The Penguins meanwhile are in eighth place in the Metropolitan Division with 65 points. They lead the Carolina Hurricanes by three points and the Buffalo Sabres by four points for the final playoff spot in the Eastern Conference.