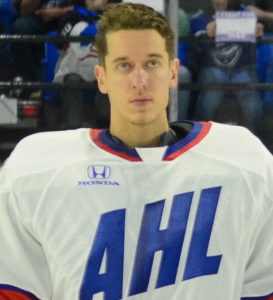 Jordan Binnington is continuing his excellent National Hockey League regular season with the St. Louis Blues. The native of Richmond Hill, Ontario was named the NHL's first star of the week for the week from February 4-10, 2019 on Monday.
In three games, Binnington had a record of three wins in three games, one shutout, a goals against average of 1.31 and a save percentage of .954. On February 5, Binnington made 22 saves on 24 shot attempts in a 3-2 Blues win over the Florida Panthers. On February 7, he shutout the Tampa Bay Lightning 1-0. Then on February 9, Binnington made 29 saves on 31 shot attempts as the Blues beat the Nashville Predators 3-2.
Binnington now has a record of nine wins, one regulation loss and one loss in extra time in 13 games. He has two shutouts, a save percentage of ,931 and a goals against average of 1.72.
Binnington is a major reason why the Blues are in a playoff spot at this time. The Blues have won six straight games (including back-to-back wins over the Predators) and have moved from last to seventh in the Western Conference in the last two months. The Blues have also responded really well to new head coach Craig Berube of Calahoo, Alberta, Vladimir Tarasenko has regained his scoring touch and the Blues have had a great season from Ryan O'Reilly of Clinton, Ontario, who was acquired from the Buffalo Sabres via a trade in the offseason.
Two other Canadians were named second and third star respectively. Boston Bruins center Patrice Bergeron of L'Ancienne, Lorette, Quebec was named the second star and Chicago Blackhawks center Dylan Strome of Mississauga, Ontario was named the third star. Bergeron had four goals and three assists for seven points in four games and Strome had two goals and five assists for seven points in three games.