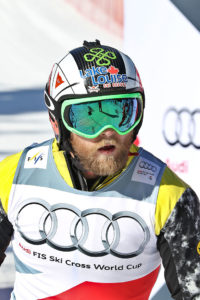 Brady Leman of Calgary, Alberta has won Canada's ninth gold medal of the 2018 Olympic Winter Games in Pyeongchang. Leman was able to get out in front and stay out of trouble in the men's ski cross big final and won the event.
Marc Bischofberger of Switzerland won the silver medal and Sergey Ridzik of the Olympic Athletes from Russia won the bronze medal. Kevin Drury of Toronto, Ontario crashed in the final and did not finish, after placing third in the seeding round, winning heat five in the elimination round, the quarterfinals and semi-finals.
Leman meanwhile had the eighth fastest time in seeding, placed second in heat two of the elimination round behind Bischofberger, ahead of Bischofberger to win the first heat of the quarterfinals and then beat Bischofberger again in the semi-finals.
Team Canada now has 20 Olympic medals (nine gold medals, five silver medals and six bronze medals) and sit third in the total medal standings. Norway leads with 30 medals and Germany is second with 23 medals.
The Canadian Sport Scene is thrilled to have interviewed Leman in June at the Canadian Olympic Committee media summit. For the full interview, please click here.
Leman also got redemption in Pyeongchang. Four years ago at the 2014 Olympic Winter Games in Sochi, Leman reached the big final but was unable to prevent a French sweep and finished fourth. Since then Leman won the 2016 Winter X Games and finished second in the 2017 World Cup standings.
Still, a  gold medal might have been a little bit of a surprise to some for Leman at the 2018 Olympic Winter Games in Pyeongchang. The reason is that Leman was unable to reach the top five in any of the eight World Cup events this season and settled for 13th in the World Cup standings.