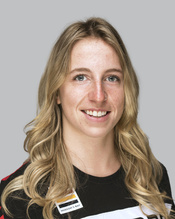 Laurie Blouin of Stoneham, Quebec has won Canada's sixth medal at the 2018 Olympic Winter Games in Pyeongchang. For the second consecutive day, Team Canada came away with a medal in slopestyle snowboarding after Max Parrot of Cowansville, Quebec and Mark McMorris of Regina, Saskatchewan won the silver and bronze medal respectively on Saturday in the men's slopestyle snowboarding event.
Blouin posted a score of 76.33 points to win Olympic silver. Jamie Anderson of the United States won her second consecutive Olympic slopestyle snowboarding title with a score of 83 points, Enni Rukajarvi of Finland won the Olympic bronze medal with a score of 75.38 points.
Blouin won the silver medal with a cab underflip, backside 720 and frontside 540. Mark McMorris's brother Craig McMorris, who is working for CBC Sports, believed Blouin could have won gold if she would have successfully executed a cab double underflip rather than just a cab underflip. Either way, it was a clean second run which got her to the second step of the Olympic podium.
Blouin now adds an Olympic silver medal to her world championship she earned last year in Sierra Nevada, Spain. Even though Blouin was a world champion, she was not considered by all as an Olympic medal favourite because the quality of competition at last year's world championship was not the strongest. The world championship did not include Anderson, 2017 Winter X Games gold medalist Julia Marino of the United States, or New Zealand star Christy Prior (who did not qualify for the Olympic Winter Games even though she won the gold medal at Snowmass, Colorado on January 12 and was second in the 2018 World Cup standings).
The women's Olympic slopestyle snowboarding competition also did not occur without controversy. Canadian star Spencer O'Brien of Alert Bay, British Columbia, was highly critical of officials for not consulting the athletes before deciding to run the women's slopestyle snowboarding run. The qualification was cancelled on Saturday, and all athletes went directly to a two run final on Sunday (Monday in Pyeongchang). O'Brien was impacted by the inclement weather in her second run, and that was a major reason she could not attempt a jump.