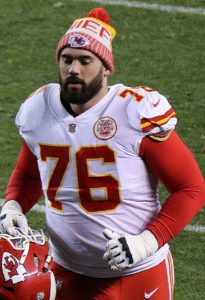 When Dr. Laurent Duvernay-Tardif of Saint-Jean-Baptiste, Quebec made the decision to sit out for the 2020 National Football League season so he could help at a long-term care facility near Montreal, Quebec, he became the first NFL player to opt-out of his contract. Since Duvernay-Tardif made the courageous humanitarian decision, 32 other players have decided not to play as well.
There are many reasons why players are not playing, but the reason why Duvernay-Tardif is absent is completely understandable. He is putting his life on the line to save others, in a time when the world is seeing a dangerous pandemic.
Now, Duvernay-Tardif is getting an immense amount of support from his star teammate, quarterback Patrick Mahomes of Tyler, Texas, the reigning Super Bowl MVP, and 2018 NFL Most Outstanding Player. According to nfl.com, Mahomes recently said the following:
"You respect his decision. He's a guy that's been on those front lines working with the people that are suffering from COVID day to day and putting in all that time and all that work. He understands it, and his decision was he wanted to stay there. He wanted (to) keep helping in that capacity and I know it was difficult for him, but you respect the decision for him to kinda put his thoughts aside and kinda do what he thought was best to help out his community and the world as he sees it."
"From everybody that I've spoken to, everybody respects his decision 100%. Larry's a guy who loves football, but he also loves his other passions, and being a doctor is extremely important. Especially at this time that we're at in this world. And so for him, I know it's difficult for him. He wants to be out here with us. He wants to be a part of us. He wants to be a part of the guys. But at the same time, he wants to make sure he's doing something to make the world a better place and I believe he is doing that. He's seen it first-hand and he understands he has to be in that place now. We're gonna respect it, and give him as much support as we can."
Chiefs head coach Andy Reid has high admiration for Duvernay-Tardif. Remember his mother also had a medical degree from the University of McGill in Montreal, where Duvernay-Tardif graduated.
"Doctors are givers, they're not takers, they're givers and they're healers. They want the best for you. Larry has that quality. And you're seeing it to the utmost, here. I just think it's tremendous dedication to his profession, what his future's gonna be, and mainly to the people that he gets to help. My heart goes out to him. I had a great talk with him, great visit with him. His players support him. The veteran players support him, the coaches support him. I'm so happy and proud."
Among the 32 players who have opted out of the season is Chiefs' running back Damien Williams of San Diego, California. Williams had 111 rushes for 498 yards and five touchdowns in 2019, along with 30 catches for 213 yards and two touchdowns.