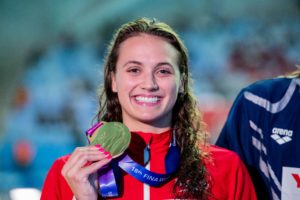 You can now make the argument that Olympic bronze medalist Kylie Masse of LaSalle, Ontario is one of Canada's best swimmers of all-time. On Tuesday, Masse successfully defended her gold medal from two years ago in the women's 100 metre backstroke at the 2019 World Aquatics Championships in Gwangju, South Korea.
Masse, who won the gold medal in the women's 100 metre backstroke at the 2017 World Aquatics Championship in Budapest, Hungary, posted a winning time on Tuesday from Gwangju of 58.6 seconds. Minna Atherton of Australia won the silver medal with a time of 58.85 seconds. Olivia Smoliga of the United States won the bronze medal with a time of 58.91 seconds.
Masse reached the podium by 0.36 seconds. Two-time Canadian Olympic bronze medalist Taylor Ruck of Kelowna, British Columbia finished in fourth place with a time of 58.96 seconds. Ruck won the bronze medal in the women's 4×100 metre freestyle event and the women's 4×200 metre freestyle event at the 2016 Olympic Games in Rio de Janeiro.
This is a remarkable era in the history of Canadian swimming. Since the first World Aquatics Championship in 1973 in Belgrade, Yugoslavia, Canada has only won three gold medals and two have come in the last two days. On Monday, Maggie Mac Neil of London, Ontario shocked the swimming world in winning gold in the women's 100 metre butterfly. The gold medal for Masse will give her confidence as she prepares for the 2020 Olympic Games in Tokyo.