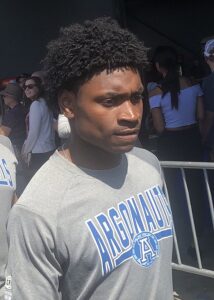 The Toronto Argonauts improved to a record of four wins and three losses on Friday, and now find themselves in a first place tie with the Hamilton Tiger-Cats for first place in the East Division. Among the players who contributed to Toronto's 30-27 win over the Montreal Alouettes was wide receiver Kurleigh Gittens Jr. of Ottawa, Ontario, who was the only Canadian player on a winning team to record a touchdown in the eighth week of the 2021 Canadian Football League season.
Gittens Jr. had five catches for 38 yards and a touchdown. The product of Wilfrid Laurier University opened the scoring with a 15-yard touchdown catch from Argonauts quarterback McLeod Bethel-Thompson. Gittens Jr. was one of two Argonauts to have a touchdown catch. The other was Chandler Worthy.
In the game, Gittens Jr. had five catches for 38 yards. On the season, he has 17 catches for 222 yards and two touchdowns. Gittens Jr. also had a touchdown catch in the Argonauts' 23-20 win over the Calgary Stampeders on August 7. In an interesting statistic, in both games where Gittens Jr. has a registered a touchdown for Toronto in 2021, the Argonauts have won by a single field goal. In his career, Gittens Jr. has 18 catches for 211 yards.