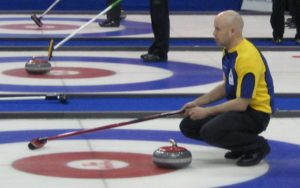 Kevin Koe of Calgary, Alberta and Canadian Olympic gold medalist Jennifer Jones of Winnipeg, Manitoba won the men's and women's competitions respectively at the first ever World Cup of Curling in Beijing, China on Sunday. Koe won the men's final by beating China's Ba Dexin 5-3, while Jones, who won the gold medal for Canada at the 2014 Olympic Winter Games in Sochi, beat the world champion, Silvana Tirinzoni of Switzerland, 9-6 in the women's final.
Koe reached the final on Saturday with a pair of victories. He beat Norway's Thomas Ulsrud 4-3 and Scotland's Ross Paterson 7-6 to improve to a record of four wins and two losses. The only team in the tournament to beat Koe was Switzerland's Yannick Schwaller, who beat Koe 6-2 to open the tournament on Wednesday and then beat him again 9-3 on Friday. Luckily for Koe, Schwaller only went 1-3 against Norway and Scotland, and finished three points back of Koe in third place in Group B. Team Canada finished tied for first place with Scotland, but Canada got the tiebreaker and berth in the final because they beat Scotland twice.
Like, Koe, Jones finished tied for first place in her group with a record of four wins and two losses. Team Canada had the same record as the Japanese Olympic bronze medalists skipped by Satsuki Fujisawa. However, Canada got to play in the championship final because they beat Japan twice. The final was not the best curling game from a performance perspective, as the Canadians came away with the win despite giving up three points in two separate ends.
In mixed doubles, the Canadian team of Laura Walker of Edmonton, Alberta and Kirk Muyres of Saskatoon, Saskatchewan, reached the final with a convincing 9-4 win over Switzerland's Michele Jaggi and Sven Michel. Then in the final, Muyres and Walker had to settle for second place as they lost 8-3 to Kristin Skaslien and Magnus Nedregotten of Norway.