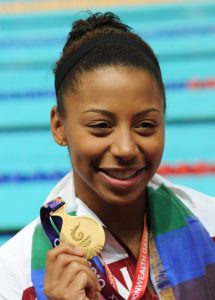 For the first time in her diving career, Olympic bronze medalist Jennifer Abel of Montreal, Quebec won the gold medal in an individual diving World Series event. On Sunday, Abel just did not win the gold medal. She dominated the competition this past weekend in Kazan, Russia.
In one of the most spectacular performances of her career, Abel posted a score of 330.6 points. Shan Lin of China won the silver medal with 303.6 points and Yani Chang of China won the bronze medal with 302.2 points. Abel reached the podium by 35.5 points as Maddison Keeney finished in fourth place with 295.1 points.
In a sport where China absolutely has dominated the competition in the past, the fact that Abel was able to put together an incredible performance in Russia this past weekend could be one of the greatest performances by a Canadian in the history of the sport. Even though China might not have sent its best divers to Russia, Lin and Chang are definitely formidable. Lin is the leader of the next wave of Chinese female divers as she won the gold medal in the girls' springboard and girls' platform at the 2018 Summer Youth Olympic Games in Buenos Aires, Argentina. Chang meanwhile has won eight career gold medals in women's synchronized diving at World Series events.
Abel's Olympic medal came with Emilie Heymans of Saint-Lambert, Quebec. They won the bronze medal in the women's three metre synchronized diving competition at the 2012 Olympic Games in London together. Abel is generating momentum in diving with the 2020 Olympic Games in Tokyo just over 14 months away.