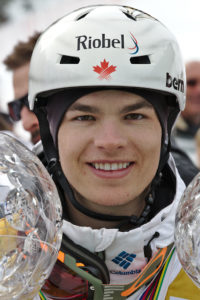 Canadian Olympic gold medalist Mikael Kingsbury of Sainte-Agathe-des-Monts, Quebec has won the 2018 Lionel Conacher Award.The announcement of the award, which is presented annually to the Canadian Press male athlete of the year, was made on Thursday.
Kingsbury won the gold medal for Canada in men's moguls at the 2018 Olympic Winter Games in Pyeongchang. In addition to his Olympic gold medal, Kingsbury won a World Cup in Calgary, Alberta on January 6, back-to-back World Cups in Deer Valley, Utah on January 10 and January 11, a dual moguls World Cup in Megeve, France on March 18, the national championship in Jasper, Alberta on March 24, the Australian New Zealand Cup in Perisher, Australia on August 28, a World Cup in Ruka, Finland on December 7, and a moguls and dual moguls World Cup wins in Thaiwoo, China on December 15 and 16. Kingsbury also had three World Cup silver medals.
Kingsbury becomes the first freestyle skier to win the Lionel Conacher Award. When Jean-Luc Brassard of Salaberry-de-Valleyfield, Quebec won the gold medal for Canada in men's moguls at the 1994 Olympic Winter Games in Lillehammer, Canadian figure skating legend Elvis Stojko of Newmarket, Ontario (silver in men's singles) won the award. When Alexandre Bilodeau of Rosemere, Quebec won the gold medal in men's moguls at the 2010 Olympic Winter Games in Vancouver, he finished third in the voting behind winner Sidney Crosby of Cole Harbour, Nova Scotia (hockey) and Joey Votto of Toronto, Ontario (baseball).  At the 2014 Olympic Winter Games in Sochi,when Bilodeau defended his Olympic title in men's moguls, he was beaten in the Lionel Conacher Award voting by winner Milos Raonic of Thornhill, Ontario (tennis) and Drew Doughty of London, Ontario (hockey).
One Canadian female freestyle skier has won the Bobbie Rosenfeld Award (top Canadian female athlete of the year). That was Jennifer Heil of Spruce Grove, Alberta, who won the award in 2011.