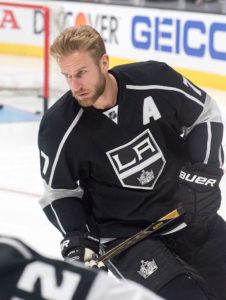 The Los Angeles Kings traded Canadian Olympic gold medalist Jeff Carter of London, Ontario to the Pittsburgh Penguins on Sunday for two conditional draft picks according to Rogers Sportsnet. The details of the conditions were not reported by the Kings or the Penguins other than it is a conditional third-round draft pick in the 2022 National Hockey League Entry Draft, and a conditional fourth-round draft pick in the 2023 National Hockey League Entry Draft.
The Penguins will be the fourth team that Carter has played for in his NHL career. In addition to the Kings, he has played for the Philadelphia Flyers and Columbus Blue Jackets.
Carter, who is a center and won a gold medal for Canada at the 2014 Olympic Winter Games in Sochi, has eight goals and 11 assists for 19 points in 40 games this season. He is a -6 with 22 penalty minutes, four power-play points, 117 shots on goal, 44 faceoff wins, 20 blocked shots, 36 hits, 11 takeaways, and 11 giveaways.
With the Penguins, Carter should provide the Penguins some secondary scoring. Over the last three seasons, he has been averaging just under one point every two games.
The Penguins are currently in third place in the East Division. They have 56 points and are only two points back of the Washington Capitals and the New York Islanders.