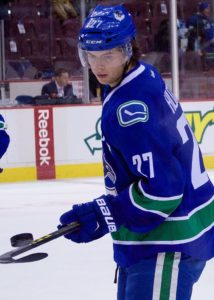 The Los Angeles Kings of the National Hockey League signed defenseman Ben Hutton of Brockville, Ontario to a one year deal on Wednesday. Hutton has spent his first four NHL seasons with the Vancouver Canucks.
Hutton will make $1.5 million this season according to Rogers Sportsnet.
Last season with the Canucks Hutton had five goals and 15 assists for 20 points in 69 games. He was also a -23 with 43 penalty minutes, eight power play points, one game winning goal, one shorthanded goal, 114 shots on goal, 102 blocked shots, 55 hits, 27 takeaways and 30 giveaways.
At 6'2″, 205 pounds, Hutton is a left shooting defenseman who is 26 years old. He was selected in the fifth round, 147th overall by the Canucks in the 2012 National Hockey League Entry Draft.
Hutton played collegiate hockey with the University of Maine Black Bears of the National Collegiate Athletic Association from 2012-2015 rather than going the Canadian Hockey League route. Internationally for Team Canada, Hutton won a gold medal at the 2016 International Ice Hockey Federation World Championships in Moscow, Russia. In the gold medal game, Canada beat Finland 2-0. In the tournament, Hutton had one assist in five games and was a +3.
Hutton now joins a Kings franchise that finished dead last in the Western Conference last season with 71 points. Only the Ottawa Senators at 64 points had fewer points than the Kings.