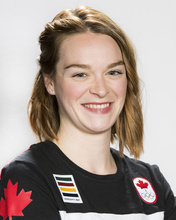 Kim Boutin of Sherbrooke, Quebec, has won Canada's ninth medal for Canada at the 2018 Olympic Winter Games in Pyeongchang. At the Gangneung Ice Arena on Tuesday, Boutin won a bronze medal in the women's 500m short track speed skating event.
Boutin had a third place time of 43.881 seconds. Arianna Fontana of Italy won the gold medal with a time of 42.569 seconds and Yara van Kerkhof of the Netherlands won the silver medal with a time of 43.256 seconds.
Boutin crossed the finish line fourth, but had her position upgraded to bronze when Choi Min-Jeong of South Korea was penalized for impeding,
The bronze medal for Boutin was significant when you consider the fact that gold medal favourite Marianne St-Gelais of Roberval, Quebec was disqualified from the quarterfinals for interference. As a matter of fact, St-Gelais did not even get to finish her quarterfinal, as after she made contact with her opponent, the officials stopped the race, disqualified St-Gelais, and started over again. St-Gelais will still have more chances for Olympic hardware in the 1000m, 1500m and 3000m relay.
Boutin becomes the fourth Canadian to win a medal in the women's 500m short track speed skating at the Olympic Winter Games. She follows in the footsteps of Annie Perreault of Windsor, Quebec (gold, Nagano, 1998), Anouk Leblanc-Boucher of Prevost, Quebec (bronze, Turin, 2006) and St-Gelais (silver, Vancouver, 2010).