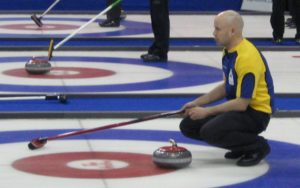 Kevin Koe of Calgary, Alberta has won the 2023 Players' Championship of Curling in Toronto, Ontario. On Sunday in the championship final, Koe defeated Yannick Schwaller of Switzerland 5-4.
Trailing 4-2 heading into the eighth end, Koe made a remarkable triple takeout for the one-point victory. It was almost like deja vu. On Saturday in the semifinal, the circumstances were eerily similar. Koe was trailing Canadian Olympic gold medalist Brad Gushue of St. John's, Newfoundland 6-4 heading into the eighth end, when he had another highlight reel triple takeout for the 7-6 win. Gushue won the gold medal at the 2006 Olympic Winter Games in Turin.
Koe's record over the week was seven wins and one loss. In Pool A play, he defeated Brendan Bottcher of Edmonton, Alberta by a score of 6-5 in nine ends, Magnus Ramsfjell of Norway 9-5, Korey Dropkin of the United States 8-2 and Niklas Edin of Sweden 6-5. Koe's only loss in Pool play was a 7-3 defeat to Gushue. In the quarterfinals, Koe beat Dunstone 5-3.
This was Koe's sixth grand slam title off his career. He previously won the 2004 and 2018 Players' Championship, the 2012 Masters, the 2013 Canadian Open, and the 2015 Tour Challenge.
Koe is one of three Canadian teams to win a grand slam event on the men's side in 2022-23. Gushue won the National in October and Bottcher won the Canadian Open in January.