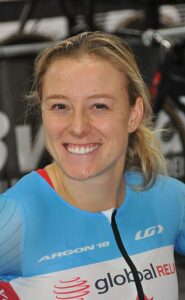 Team Canada has won its 24th medal at the 2020 Olympic Games in Tokyo in 2021. On Saturday evening in Canada, and Sunday in Tokyo, Kelsey Mitchell of Sherwood Park, Alberta won a gold medal in women's sprint track cycling.
Mitchell beat Olena Starikova of the Ukraine to win Olympic gold, and won both of her races in the best out of three competition quite handily. The first race was by .061 seconds, and the second race by .064 seconds. Wai-sze Lee of Hong Kong meanwhile won the Olympic bronze medal.
Mitchell qualified for the finals by having the second fastest time in qualifying at 10.346 seconds. She then beat Lyubov Basova of Ukraine by 0.535 seconds in the first round, Kaarle McCulloch of Australia by 0.135 seconds in the second round, Ellesse Andrews of New Zealand by five one-thousandths of a second in the third round, Canadian Olympic bronze medalist Lauriane Genest of Montreal, Quebec two races to none in the quarterfinals, and Emma Hinze of Germany two races to one in the semifinals.
Canada finished the 2020 Olympic Games in Tokyo by winning 24 medals (seven gold, six silver and 11 bronze). They were 11th in the overall medal standings. The United States won with 113 total medals.
Meanwhile in other Canadian Olympic news, Canadian Olympic gold medalist Damian Warner was selected to be the flag bearer for Canada in the closing ceremonies. Warner set an Olympic record in the decathlon en route to a brilliant athletic performance.