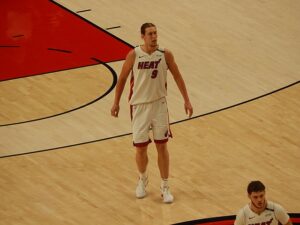 Kelly Olynyk of Toronto, Ontario was one of two Canadians traded on the final day that National Basketball Association deals could be made this season. Olynyk, was traded from the Miami Heat to the Houston Rockets according to Jordan Greer of The Sporting News. The other was Iggy Brazdeikis of Oakville, Ontario, who was traded from the New York Knicks to the Philadelphia 76ers in a blockbuster deal that involved three teams, six players and three draft picks.
Olynyk was averaging 10 points per game this season with the Heat. He also had 6.1 rebounds per game, five rebounds per game, a .431 field goal percentage, a .317 three-point percentage, and .775 free throw percentage. He was traded with Avery Bradley for Victor Oladipo. A pair of 2022 NBA Draft picks were also involved in the deal. The Rockets become Olynyk's third NBA team after four seasons each with the Boston Celtics and the Heat. Oladipo was averaging 20.8 points per game this season with the Indiana Pacers and Rockets.
In the Brazdeikis deal, George Hill was moved from the Oklahoma City Thunder to the Philadelphia 76ers. The Thunder received Tony Bradley in return from Philadelphia. The New York Knicks picked up Terrance Ferguson from Oklahoma City and Vincent Poirier from Philadelphia, and sent Austin Rivers to the Thunder. The Thunder also received the 76ers second-round picks in 2025 and 2026, and the Knicks will receive the 76ers second-round pick in 2021. This season, Brazdeikis was only averaging half a point per game in only four games.