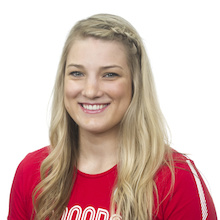 Kelita Zupancic of Whitby, Ontario won the bronze medal in the women's 70 kilogram division at a Judo Grand Prix in Budapest, Hungary on Saturday. It was Zupancic's 13th career Grand Prix medal. Zupancic now has one gold medal, four silver medals and eight bronze medals since winning her first grand prix judo medal in Dusseldorf, Germany on February 21, 2010. All 13 Grand Prix medals Zupancic has won have come in the women's under 70 division.
Zupancic now has won three Judo Grand Prix medals during the 2019 season. She also won a bronze medal in Hohhot, China on May 26 and a silver medal in Montreal on July 5.
Zupancic was in Pool B and received a first round bye in Budapest. She then beat Daria Pogorzelec of Poland and Hilde Jager of the Netherlands before losing to Maria Bernabeu of Spain. In the Repechage, Zupancic then beat Nihel Landolsi of Tunisia and Maria Portela of Brazil to win the bronze medal. Gemma Howell of Great Britain won the gold medal and Bernabeu of Spain won the silver medal, while Elisavet Teltsidou of Greece won the other bronze medal.
Zupancic is currently in 13th place in the World Judo Rankings in the women's 70 kilogram division. The bronze medal for Zupancic will give her confidence as she prepares for the 2020 Olympic Games in Tokyo.