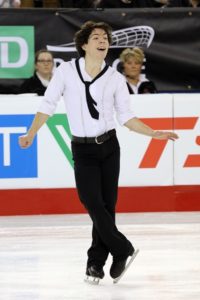 Keegan Messing of Edmonton, Alberta has won the bronze medal for Canada at the 2020 Skate America in Las Vegas, Nevada on Saturday. Messing is the only Canadian competing on the International Skating Union Grand Prix circuit this season because of coronavirus.
Canadians were supposed to compete in high numbers at Skate Canada in Ottawa. However this event was outright cancelled on October 14 due to the outrageous high numbers of coronavirus in Ontario. There have been 69, 331 cases of coronavirus in Canada's most populated province and 3086 deaths. The event was supposed to take place on October 30 and 31, a week after Skate America. The Internationaux de France in Grenoble has also been cancelled from November 13 to 15.
In Las Vegas on Saturday, Messing had 266.42 points. Two-time world champion Nathan Chen of the United States won the gold medal with a score of 299.15 points. Vincent Zhou of the United States won the silver medal with 275.1 points. Messing reached the podium by 21.12 points over Tomoki Hiwatashi of the United States, who had a fourth place score of 245.3 points.
The men's singles competition was an event primarily for Americans this season. There were only three skaters from outside the United States competing. Besides Messing, Alexei Bychenko and Daniel Samohin of Israel were entered. The bronze medal for Messing will give him confidence as he prepares for the 2022 Olympic Winter Games in Beijing.  
In other Canadian figure skating news, the Canadian Figure Skating Championships has been delayed one month according to the Powell River Peak. The event was to take place at the Doug Mitchell Thunderbird Sports Centre in Vancouver, British Columbia from January 13-19. Now it will be from February 8-14.