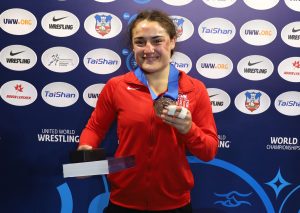 Karla Godinez Gonzalez of Coquitlam, British Columbia has won Canada's first medal of the World Wrestling Championships in Belgrade, Serbia. On Tuesday, Godinez Gonzalez won a bronze medal in the women's 55 kilogram freestyle division.
Godinez Gonzalez was in the bottom half of the draw. She first beat Shokhida Akhmedova of Uzbekistan 5-2 in the round of 16, and Andreea Ana of Romania 2-1 in the quarterfinals. In the semifinals, Godinez Gonzalez lost 5-3 to Oleksandra Khomenets of Ukraine.
After losing in the semifinal, Godinez Gonzalez competed in one of the two bronze medal matches. She defeated Mariana Dragutan of Macedonia 6-2. The other bronze medalist was Xie Mengyu of China. In the gold medal match, Mayu Mukaida of Japan defeated Khomenets 10-0.
On Thursday, two more Canadian women are in the position to come away with bronze medals. Laurence Beauregard of Montreal, Quebec is in the thick of things in the women's 59 kilogram weight class and Linda Morais of Tecumseh, Ontario is in the hunt in the women's 68 kilogram weight class.
In the championships to date, Japan leads the way with seven medals, including four gold medals. Japan is also tied with Serbia for the most gold medals. The 2022 World Wrestling Championships were initially to be held in Krasnoyarsk, Russia, but was moved to Serbia because of the Russian invasion of Ukraine.