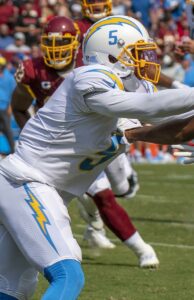 After a slow start to the 2023 National Football League regular season, the Los Angeles Chargers won their first game by a score of 28-24 over the Minnesota Vikings. It was a Canadian who captured the spotlight for Los Angeles on Sunday.
Josh Palmer of Brampton, Ontario had the game-winning touchdown with eight minutes and four seconds left in the fourth quarter to give the Vikings a 28-24 lead. At the time of the major score, the Chargers were down 24-21.
Palmer's touchdown catch was for 30 yards, and it came from quarterback Justin Herbert. The throw by Herbert was initially tipped by Vikings cornerback Akayleb Evans before being caught by Palmer, who then ran a few yards into the end zone after the catch. For Herbert, it was his 100th career touchdown pass.
On the season, Palmer now has eight catches for 83 receiving yards, and one major score and 113 catches for 1205 receiving yards and eight touchdown catches in his career. The Chargers lost their first two games of the year by scores of 36-34 to the Miami Dolphins on September 10, and 27-24 to the Tennessee Titans on September 17. Last season, the Chargers had a record of 10 wins and seven losses, and finished second in the AFC West. They were also the fifth seed in the American Football Conference.