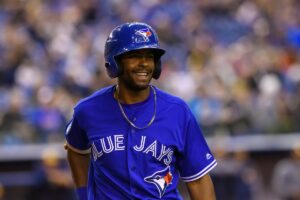 The Toronto Blue Jays hammered the Los Angeles Angels 15-1 on Saturday from Dunedin, Florida. All the talk at the moment is about Josh Palacios of Brooklyn, New York, who had a memorable night in only his second Major League Baseball game.
Palacios, who was batting ninth, became only the second player in American League history to score four runs and collect four hits in one of his first two Major League Baseball games according to CBS Sports. The other was shortstop Wid Conroy of Philadelphia, Pennsylvania, who scored four runs and had four hits for the Milwaukee Brewers in a 14-13 Milwaukee loss to the Detroit Tigers on April 25, 1901. It was Conroy's first Major League Baseball game.
Palacios, who was hitting ninth, and playing in left field, had four singles. His first Major League hit came in the second inning on a bunt to third base. Palacios later scored on a bases loaded double by Randal Grichuk. Then in the fourth inning, Palacios had a RBI single which scored Santiago Espinal, and put the Blue Jays up 10-1. Palacios then had two more singles in the sixth and eighth innings.
With the win, the Blue Jays improve to a record of four wins and five losses. They are in fourth place in the American League East and a game and a half back of the first place Boston Red Sox.