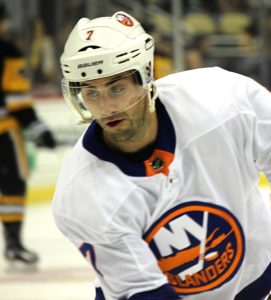 Jordan Eberle of Regina, Saskatchewan recorded his third career National Hockey League hat trick on Friday. Eberle scored thrice for the New York Islanders in their 4-1 win over the Detroit Red Wings at the Nassau Coliseum from Uniondale, New York.
Eberle opened the scoring at 5:45 of the first period from Ryan Pulock of Dauphin, Manitoba and Anders Lee to put the Islanders up 1-0. It was the only goal in the first period.
Eberle then also notched the only goal in the second period with a game winning goal from Mathew Barzal of Coquitlam, British Columbia and Anthony Beauvilier of Sorel-Tracy, Quebec at 17:02.
Eberle's hat trick then came on the power play with 37 seconds left in the contest from Lee and Andy Greene, who the Islanders recently acquired from the New Jersey Devils. Eberle's third goal of the game put New York up 3-1.
In 50 games this season, Eberle has 13 goals and 21 assists for 34 points. He is a +1 with 12 penalty minutes, nine power play points, one game winning goal, 111 shots on goal, 34 blocked shots, 29 hits, 28 takeaways and 29 giveaways.
Eberle's first two career hat tricks came with the Edmonton Oilers. The first was on February 11, 2016 in a 5-2 Oilers win over the Toronto Maple Leafs and the second was on April 9, 2017 in a 5-2 Oilers win over the Vancouver Canucks.
The Islanders are currently in fourth place in the Metropolitan Division with a record of 34 wins, 20 regulation losses and six losses in extra time for 74 points. They lead the Carolina Hurricanes for two points for a playoff spot.