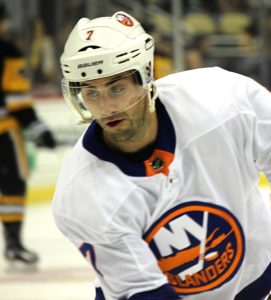 Jordan Eberle of Regina, Saskatchewan was instrumental on Saturday in the New York Islanders' 3-1 win over the Philadelphia Flyers at the Scotiabank Arena in Toronto, Ontario. The former Oilers forward had two assists in game four of the Eastern Conference Semifinal series. With the victory, the Islanders took a two games to one lead.
Eberle got a secondary assist on the game-winning goal by Matt Martin of Windsor, Ontario. Mathew Barzal of Coquitlam, British Columbia notched the other assist. Eberle then got the primary assist on an insurance marker by Anders Lee of Edina, Minnesota. Lee scored a power-play goal which put the Islanders up 3-1 at 3:41 of the third period. Ryan Pulock of Dauphin, Manitoba picked up the other assist.
The Islanders continue to be a really good story in the 2020 Stanley Cup Playoffs. They are the only franchise to be in the lead in the National Hockey League Conference semifinals, which won a series from the qualifying round. The Islanders beat the Florida Panthers in four games in the qualifying round, before beating the Washington Capitals in five games in the Eastern Conference quarterfinals.
In 33 playoff games, Eberle has seven goals and 12 assists for 19 points. After only getting two assists in 13 playoff games with the Edmonton Oilers in 2016-17, Eberle has seven goals and 10 assists for 17 points in 20 postseason games with the Islanders over the last two playoffs.