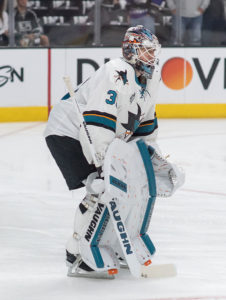 Martin Jones of Vancouver, British Columbia recorded his second shutout of the 2018-19 National Hockey League regular season and 21st of his NHL career on Thursday. Jones made 26 saves as the San Jose Sharks beat the Pittsburgh Penguins 4-0 at the PPG Paints Arena in Pittsburgh, Pennsylvania.
Jones made nine saves in the first period, none saves in the second period and eight saves in the third period. On the season, Jones now improves to 29 wins, 11 regulation losses and five losses in extra time, a goals against average of 2.89 and a save percentage of .898. Jones's other shutout this season came on December 18 when he made 26 saves in a 4-0 Sharks win over the Minnesota Wild.
In the Sharks win over the Penguins, it was a big game offensively for Sharks defenseman Brent Burns of Barrie, Ontario. Burns had one goal and two assists. He scored the Sharks fourth goal with 3:09 left in the third period from Canadian Olympic gold medalist Joe Thornton of St. Thomas, Ontario and Erik Karlsson. Thornton won a gold medal for Canada at the 2010 Olympic Winter Games in Vancouver. Burns's assists meanwhile came on a first period power play goal by Tomas Hertl which came 57 seconds into the game, and on a first period shorthanded goal by Evander Kane of Vancouver, British Columbia.
With the win, the Sharks pull within one point of first place in the Pacific Division. With 80 points, they are one point back of the Calgary Flames.