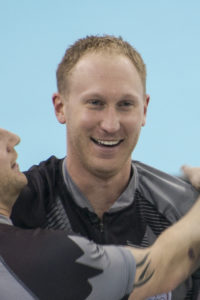 Canadian Olympic gold medalists Jennifer Jones of Winnipeg, Manitoba and Brad Jacobs of Sault Ste. Marie, Ontario skipped their teams to a championship victory on Sunday at the 2018 Canada Cup of Curling. Jacobs defeated Kevin Koe of Calgary, Alberta 5-4 in the men's final, while Jones defeated Kerri Einarson of Gimli, Manitoba 8-5 in the women's final. The winners qualify to represent Canada at one leg of the World Cup of Curling during the 2019-2020 season and have clinched a berth to the 2021 Canadian Olympic Curling Pre-Trials event. However, it is unlikely that Jacobs or Jones will participate in the Canadian Olympic Curling Pre-Trials event as they should have the resumes to go automatically to the 2021 Canadian Olympic Curling Trials.
In the men's competition, Jacobs posted a record of five wins and one loss in the round robin standings. His only loss came to Brendan Bottcher of Edmonton, Alberta, who beat Jacobs 7-6 on Friday night in draw 9. The men's final did not come without controversy. In the fifth end, the Koe team ran out of time and only scored one point instead of a potential deuce. In a new timing system instituted by Curling Canada, teams only had four minutes per end.
In the women's competition, Jones was in second place after the round robin with a record of five wins and two losses. Her only losses came to Einarson in draw four by a score of 6-3 and to Laura Walker of Edmonton, Alberta in draw 10, by a score of 7-5. Einarson finished in first place after the round robin with a record of six wins and one loss. Her only loss came to Rachel Homan of Ottawa, Ontario by a score of 6-5 in draw two. In the semi-final, Jones beat Homan 8-4 before winning her fourth career Canada Cup. She previously won in 2007 in Kamloops, British Columbia, in 2011 in Cranbrook, British Columbia and in 2016 in Brandon, Manitoba. It was Jacobs's first Canada Cup. Jacobs and Jones each skipped Team Canada to an Olympic gold medal at the 2014 Olympic Winter Games in Sochi.