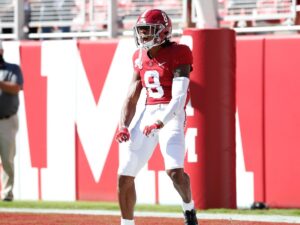 According to the Canadian Press on Monday, University of Alabama Crimson Tide wide receiver John Metchie III of Brampton, Ontario won the 2020 Jon Cornish Trophy. The trophy, which is named after the former Calgary Stampeders star running back, is presented to the top Canadian football player in the National Collegiate Athletic Association.
This past season Metchie III played in 13 games and had 55 catches for 916 yards, and six touchdowns. He was also part of the undefeated Crimson Tide team that won the College Football Playoff National Championship. In the championship game, the University of Alabama hammered the Ohio State Buckeyes 52-24 from Hard Rock Stadium in Miami, Florida. In the final game, Metchie III caught eight passes for 81 yards.
The best game Metchie III had this past season was on October 3. He had five catches for 181 yards and two touchdowns in a 52-24 Alabama win over Texas A&M.
Metchie III had two other notable games this past season. He had seven catches for 151 yards in a 48-17 Alabama win over the University of Tennessee on October 24, and two touchdowns in a 42-13 Alabama win over the University of Auburn on November 28.
In 2021, there could be more opportunity for Metchie III to be even a bigger part of the Alabama offense. That is because the Miami Dolphins drafted Alabama wide receiver Jaylen Waddle sixth overall, and the Philadelphia Eagles drafted Alabama wide receiver DeVonta Smith 10th overall, in the 2021 National Football League Draft.