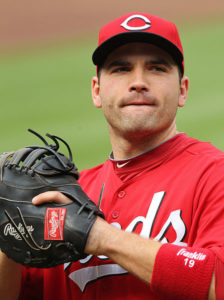 Cincinnati Reds first baseman Joey Votto of Toronto, Ontario has been named the National League player of the month of July. According to Thomas Harrigan of mlb.com, it is the first time in Votto's 15 years of Major League Baseball he has received the honour.
Votto batted .319 with 11 home runs and 25 runs batted in during the month of July. He had 30 hits in 94 at bats, with 18 runs scored, four doubles, one triple, 19 walks, a .440 on base percentage, a .734 slugging percentage, an outstanding 1.174 on base plus slugging percentage, 69 total bases, and one sacrifice fly. Votto made Major League headlines during the month when he hit a home run in seven straight games. The Major League record for most consecutive games with a home run belongs to Dale Long of the Pittsburgh Pirates (1956), Don Mattingly of the New York Yankees (1987), and Ken Griffey Jr. of the Seattle Mariners (1993), who each hit a home run in eight straight games.
Votto was also named the National League player of the week for the week from July 26 to August 1. He batted .375 with seven home runs and 11 runs batted in. Meanwhile, the American League player of the week also had a Canadian connection as George Springer, the center fielder of the Toronto Blue Jays received the honour. He batted .400 with three home runs and seven runs batted in.