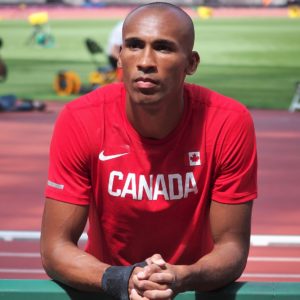 Canadian Olympic bronze medalist Damian Warner of London, Ontario, and Pierce Lepage of Whitby, Ontario have each got off to a fantastic start in the men's decathlon at the 2020 Olympic Games in Tokyo in 2021. After five events, Warner currently leads the elite multi-discipline competition of the Olympic Games with 4722 points, while Lepage is third with 4529 points.
The decathlete in between Warner and Lepage is Australian Ashley Moloney, who has 4529 points. Warner is in a podium position by 353 points as Steven Basien of the United States is in fourth place with 4369 points. Lepage meanwhile, is in a podium spot by 160 points.
What Warner was able to accomplish in the first two rounds of the decathlon was magical. He had a 100 metre time of 10.66 seconds, which was the fastest among all 22 competitors. Warner then had the longest jump of 8.24 metres. To put everything into perspective with the long jump, his jump of 8.24 metres would have won him the Olympic bronze medal in Tokyo. Warner's jump was 0.03 metres longer than Maykel Masso of Cuba, who placed third in the men's long jump with a jump of 8.21 metres.
Lepage meanwhile had the third fastest men's 100 metre run of 10.43 seconds, had the second longest jump of 7.65 metres, and the second fastest 400 metre run of 46.92 seconds. On the second day of the decathlon, we will have to watch Lepage's knee closely, as he had it bandaged in the men's 400 metres after struggling in the high jump.
Warner had the third fastest 400 metre run of 47.48 seconds. Five years ago he had 4489 points at the half-way stage of the Olympic decathlon which he won bronze in Rio de Janeiro.