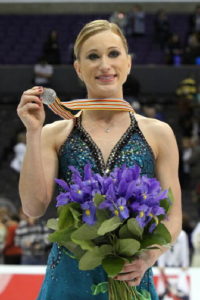 Canadian Olympic bronze medallist Joannie Rochette of Montreal, Quebec received her medical degree from the University of McGill on Friday according to the Canadian Press. Rochette was one of Canada's stars from the 2010 Olympic Winter Games in Vancouver as she won the bronze medal in women's figure skating.
Rochette will be doing the majority of her work over the next while in Quebec nursing homes. There are currently 24, 982 cases of coronavirus in the province of Quebec with 1, 599 deaths. Of those deaths, many have come in Quebec long term care facilities where seniors have been at risk. Of the 1599 deaths so far, 72.6% of the deaths have been of Quebecois who are 80 years and older and 90.7% of the deaths have been of Quebecois who are 70 years and older.
Rochette made headlines at the Olympic Winter Games a decade ago because she won the Olympic bronze medal just five days after the death of her mother. Therese Rochette died of a heart attack on February 20, 2010, at the age of 55 and then Joannie Rochette won her Olympic bronze medal on February 25, 2010. For her remarkable trait of courage, Rochette was the flag bearer for Canada in the closing ceremonies of the 2010 Olympic Winter Games and won the 2010 Bobbie Rosenfeld Award, which is presented to the Canadian Press Female Athlete of the Year.