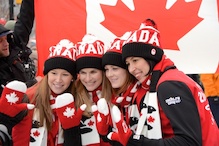 Canadian Olympic gold medalist Jill Officer of Winnipeg, Manitoba has decided to take a step back from high performance competitive curling starting in the 2018-19 curling season. Officer, the long-time second for Jennifer Jones, will continue to be with the Jones team as their fifth.
Officer won an Olympic gold medal for Canada at the 2014 Olympic Winter Games in Sochi. In addition to her Olympic gold medal, Officer has won six Scotties Tournament of Hearts titles and the 2008 Women's World Curling Championship in Vernon, British Columbia. In January, Officer and Jones won their sixth Scotties Tournament of Hearts title in Penticton, British Columbia. While representing Team Manitoba, Jones's team defeated Kerri Einarson's wildcard team from Winnipeg 8-6.
Officer is going to be replaced by Jocelyn Peterman of Red Deer, Alberta, who has spent the last three years as the second to Chelsea Carey. Peterman helped Carey win the 2016 Scotties Tournament of Hearts in Grande Prairie, Alberta while representing the home province of Alberta.
Jones, Officer, third Kaitlyn Lawes and lead Dawn McEwen will now represent Canada at the 2018 Women's World Curling Championship in North Bay, Ontario from March 17 to 25. Lawes however was not in Penticton because she was getting ready to represent Canada in mixed doubles curling at the 2018 Olympic Winter Games in Pyeongchang, where she won an Olympic gold medal with John Morris of Canmore, Alberta.
Interestingly, Lawes was replaced in Penticton by Shannon Birchard of Winnipeg. Birchard will be the fifth for Jones at the 2018 Women's World Curling Championship and will then join Einarson's team as her second. Einarson dropped third Selena Kaatz, second Liz Fyfe and lead Kristin MacCuish after reaching the final with them at the 2018 Scotties Tournament of Hearts. In addition to Birchard joining Einarson, the Scotties finalist will have two-time Scotties finalist Valerie Sweeting of Edmonton, Alberta as her third and Briane Meilleur of Winnipeg as her new lead. Meilleur skipped a team at the 2017 Canadian Olympic Curling Pre-Trials in Summerside, Prince Edward Island, but lost the A Final to Krista McCarville of Thunder Bay, Ontario 7-5 and the B Final to Julie Tippin of Woodstock, Ontario 8-3.