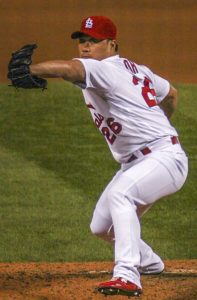 The Toronto Blue Jays signed South Korean relief pitcher Seung-hwan Oh this past week to a one year contract worth $2 million with an option from the St. Louis Cardinals. Now the Blue Jays organization and Blue Jays fans throughout Canada hope the Blue Jays will get the 2016 version of Oh rather than the 2017 version.
Last season, Oh pitched 62 games with a record of one win and six losses. In 2016, Oh pitched 76 games and had a record of six wins and three losses.
When analyzing statistics, the last thing I take a look at is a pitcher's record. There are so many other different factors and situations that impact a pitcher's win-loss record, that at the end of the day wins is out of their control.
However Blue Jays fans need to be concerned about the fact that Oh's statistics took a downward spiral in 2017 from 2016. Oh's earned run average rose 1.92 to 4.10 and saw his WHIP (walks and hits per innings pitched) rise from an excellent 0.92 to a terrible 1.40. Oh also had 49 fewer strikeouts, gave up 13 more hits and five more home runs in 2017 than 2016.
Oh will be in the Blue Jays mix when it comes to relievers, but will need a strong start to the season, to earn the faith of Blue Jays manager John Gibbons. Expect him to be used regularly between the sixth and eighth innings as the Blue Jays set things up for Roberto Osuna in the ninth inning.