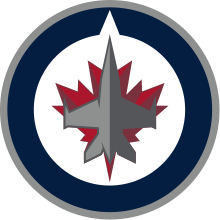 The Winnipeg Jets won the opening game of the North Division semi-final of the 2021 Stanley Cup Playoffs. Entering the tournament as the division's number three seed, the Jets beat the Edmonton Oilers 4-1 at Rogers Place in Edmonton, Alberta on Wednesday.
It was an outstanding performance by Jets goaltender Connor Hellebuyck. The reigning Vezina Trophy winner made 32 saves.
Mark Scheifele of Kitchener, Ontario was one of four Jets players with a multi-point game as he had two assists. Nate Thompson also had two assists, while Kyle Connor and Blake Wheeler each had a goal and an assist.  Meanwhile, the other two Jets scorers were Dominic Toninato and Tucker Poolman. For Poolman, it was his first goal of the season after not scoring in 39 games in the regular season. For Toninato, it was his first career goal with the Jets and first career postseason goal, after five goals in 85 career National Hockey League games with the Colorado Avalanche and Florida Panthers.
The Jets seemed significantly looser in game one, as the Oilers played extremely tight. Game two of the best out of seven series is on Friday. Never before have the Jets beaten the Oilers in the Stanley Cup Playoffs. Expectations are high in Edmonton, as the Oilers have two of the best league's best players in Connor McDavid of Richmond Hill, Ontario, and Leon Draisaitl.